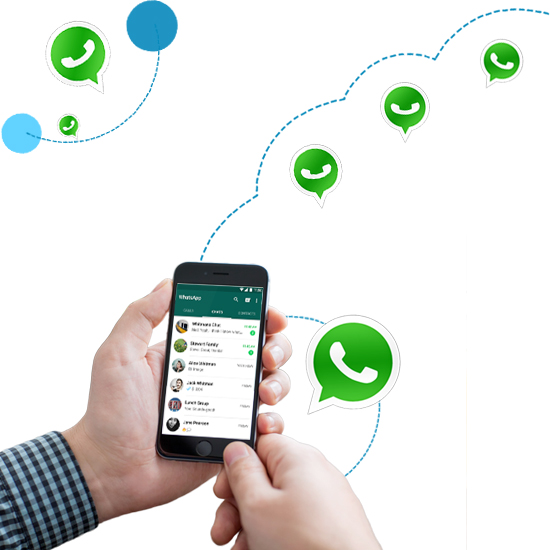 Have Business Enquiry ? Contact Us Now!..
Bulk Whatsapp Marketing/Promotions
Bulk Whatsapp Marketing/Promotion has become the need of hour because of the fast growing Whatsapp users; however, you need to hire the best performing bulk Whatsapp service provider in India for the added cost benefit.
The Importance of Bulk Whatsapp Marketing:
The numbers of people don't communicate anymore over the Facebook or other social media channels but are highly active on Whatsapp. The statistics confirm that more and more people will prefer to communicate in small groups over Whatsapp instead of using other channels for messaging. The ease of sharing text, photos, audio messages and videos makes Whatsapp a never to miss marketing channel. As of today, Whatsapp has 500 million users; and you can tap them all without geographical boundaries.
Technomate - Whatsapp Promotion Experts in Delhi:
We as being the low cost marketing experts have expertise in leveraging the benefits of Whatsapp marketing and promotions. Our dedicated experts analyze your target audience and the close rivals before formulating the most effective Whatsapp Promotion Strategy; as a result, the delivered benefits are long lasting. The salient features of our customized whatsapp marketing campaign are:
Support for all the popular media formats
Ability to track how the particular message performs
Access to DND Numbers
Extensive research
Measurable
Engaging messages with attachments created by Whatsapp experts
Benefits of Whatsapp Marketing in India:
By hiring the top Whatsapp Marketing Service Provider in India, you expectations too go high; and, we at Technomate respect your expectations because these empower us to excel better than the before. Each campaign for promotion in Whatsapp is designed to deliver unmatched benefits:
Improves customer service
Enhances employee communication
Maximizes mobile CRM
Target marketing
Brand positioning
Low cost promotion
Periodic reporting
To experience the power of bulk Whatspp Marketing in India, get in touch with our dedicated team of Whatsapp marketing experts.