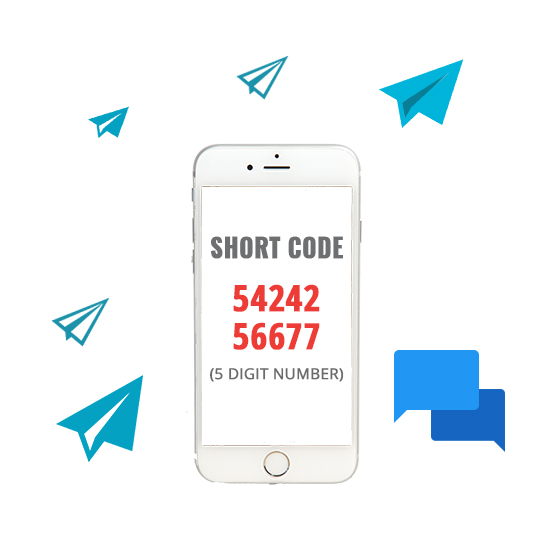 Have Business Enquiry ? Contact Us Now!..
Short Code SMS Service Provider in India
Technomate Mobi is the pioneer Short Code SMS service provider in India with years' experience and proven expertise in leveraging the benefits of SMS marketing the best tuned to short and long term objectives.
Importance of Outsourcing Short Codes SMS Services in India:
SMS Short Code service is widely used to generate high potential leads and for receiving the customers' feedback as well. In a shared Short Code customer support environment, you get a keyword as a unique identifier. The received messages are recognized and segregated on the basis of allotted keyword before forwarding to you. The growing demand of short codes services in India certifies the importance of outsourcing SMS Short Code Services; however, you need to hire the best Short Code service provider to experience the widely accepted effectiveness.
Benefits of Outsourcing 5 Digit SMS Short Code Services:
Like in case of outsourcing any other marketing support, the ultimate satisfaction of getting the best ROI depends upon the perfection of hired Short Code SMS gateway service provider in India. We have in-house facilities and trained experts to match the ultimate standards by offering world-class 5 digit SMS Short Code Service with personalized touch; as a result you experience following benefits in a very short period:
Free auto replies
Fastest yet easiest
Cost efficient
Highly responsive
Trackable
Freedom to communicate individually
Least involvement and less time consuming
Why to Hire Technomate for 5 Digit Short Code SMS Services:
The 5 Digit Short Code SMS is a phone number that is used to opt-in the existing and would-be clients to SMS programs and to send them the messages, discount coupons, updates and promotional offers etc. Our technical excellence and years' experience help us to add more values to this widely outsourced service:
Email alerts
SMS alerts
URL forwarding
Unlimited sub-keywords
Incorporation of automated response feature
Custom application for SMS survey & polling
Professional responding on your behalf …..