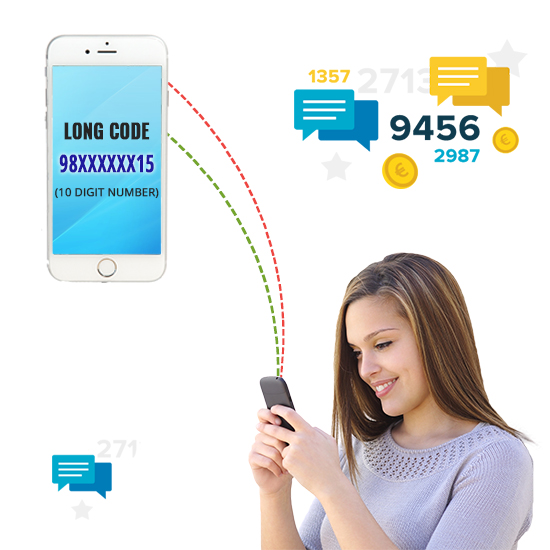 Have Business Enquiry ? Contact Us Now!..
Long Code SMS Service Provider in India
Technomate Mobi, the no.1 Long Code SMS service provider in India offers customized long code SMS gateway solutions at least price; the best designed Long Code SMS service helps you engage and impress the target clients
Importance of Outsourcing Long Code SMS Services:
In the era, when the standards of customer support are scaling new heights every year, you can't afford to leave your clients abandoned with the only support of traditional system. Using long codes, also known as SMS virtual numbers, is highly effective to address the diverse needs of existing and would- be clients through feedbacks monitoring in addition to generate quality leads. We, as the leading SMS Long Code service provider, customize the most cost efficient SMS Long Code Solutions to suit all your concerns.
Long Code SMS Service Provider in India with a Difference:
We have most advanced technical software and highly trained experts to edge your Long Code SMS program. Our commitment to provide the world-class 10 Digit SMS Long Code services at least price with no compromise with quality makes the significant difference that most of our clients experience within days. Our tailor made Long Code SMS Gateway services have unmatched features:
Dedicated long code
Complete real time reporting
URL forwarding allows receiving incoming SMS on your integrated API
Auto responding
Unique identifier
Unlimited sub keywords
Two ways messaging Service
No set up fees
Web based control panel to interact with target audience …..
We at Technomate have set numbers of milestones even for the leading Long Code service providers in India by providing state of the art long code SMS gateway solutions that add more values to your SMS marketing and customer support model.
To experience the additional benefits of hiring the most competent SMS Long Code service provider in India -- just give us a call.